Overview:
Designed for parking lot, tennis court and other area lightings
Power 75W-265W, up to 1000W replacement
Built-in occupancy sensor & photocell sensor available
Entire luminaire following Title 24
3000-6500K, 100-277VAC / 347VAC/ 480VAC, Ra>70/80
1-10V dimming, up to 20KV surge protection available
Optical grade polycarbonate lens material
Multiple brackets & fixture colors customizable
Type III, IV, V/frosted lens available and customizable
IP66&IK10 resistance & smart system upgradable


black / brown color fixtures optional
Warranty Terms:
5-year standard warranty and up to 10-year extra warranty available
Covers repair/replacement and shipping cost of failed unit
Please check with AOK sales representative for the details
Billboard Lighting Application:
SM iT series is also an ideal choice of the outdoor billboard on the highway. Its 70*130° lens can perfectly cover the surface of the billboard advertisement.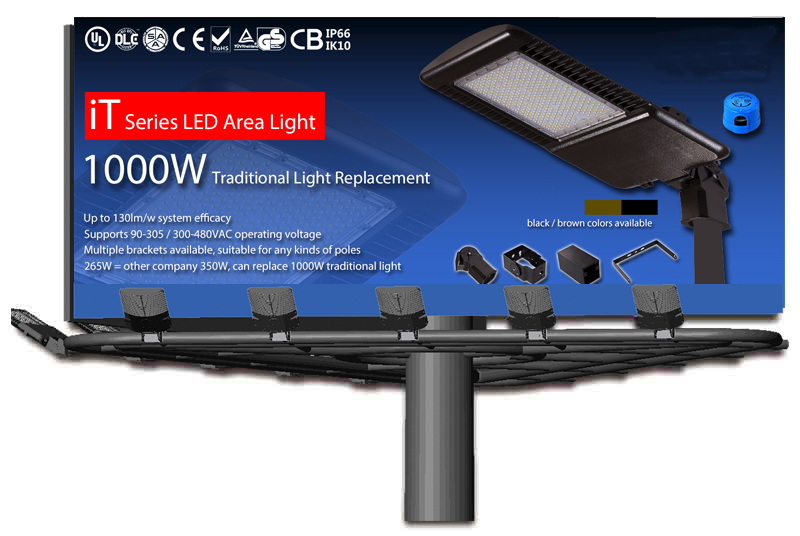 iT series standard light distribution chart
Area Lighting Application:

iT series parking lot project for Lexus car dealership
Antec New iT series parking lot light is using Type IV 70*130° beam angle as its main option. This lens is perfectly suitable for outdoor parking lot lighting and outdoor area lighting.
The parking lot lighting is different from the street lighting. Now the Type IV distribution is widely recognized as the standard option for parking lot. The light is evenly covered on the ground and just covered the area we want to illuminate.