SM-05 Hybrid LED Street Light
Product Description
SM-05 Hybrid LED Street Light is in an off-grid hybrid outdoor led lighting system that eliminates the reliance on power grids that conventional street lighting systems have. SM-05 Hybrid LED Street Lights are not only able to generate power from solar energy in the daytime, but also generates the power from wind. These SM-05 Hybrid LED Street Lights are very cost effective and really easy to install. It will be configured according to the environmental conditions of the installation site as well as your specific requirements. The lighting from SM-05 Hybrid LED Street Lights System lasts more than 10 hours per night, that's why demand for this product is really high due to both its effectiveness and efficiency.

Benefits of LED Solar Wind Street Light:
• Solar wind hybrid lighting system is an off-grid outdoor lighting system that is cost effective and simple to install almost anywhere with good sunshine and wind condition.
• Environment-friendly, energy-saving, long lifespan.
• Easy installation, Free-maintenance.
• Low-voltage, safe and reliable.
• Water proof of IP65, avoid water vapor or corrosive gas erosion of chips and circuit boards.
• Competitive for its outstanding working ability against harsh environments such as heavy rain, low temperature, and so on.
Detailed Parameters
No
Item
Picture
Parameters
1
SM-05 Led Lamp
Power:20w/30w/40w/50w/60w/80w/100w
Chip: Philips/ Bridgelux/Cree/ Epistar
Lumens:90lm/w
Voltage:DC12V/24V
Color temperature:3000-6500K
2
Solar Panels
Power:40w/60w/2*40w/2*50w /2*60w/2*80w/2*100w
Nominal Voltage:18V
Efficiency of solar cells:18%
Material: Mono Cells/Poly Cells
3
Battery
Capacity:38AH/65AH/2*38AH/2*50AH/2*65AH/ 2*90AH/2*100AH
Type: lead-acid
Nominal Voltage:12V/24V

4
Battery Box
Material: Plastics
IP Rating:IP67
5
Controller
Rated Current:5A/10A/15A/20A
Nominal Voltage:12V/24V
6
Pole
Height: 5m(A); Diameter: 90/140mm(d/D); Thickness: 3.5mm(B);Flange Plate:240*12mm(W*T)
Height: 6m(A); Diameter: 100/150mm(d/D); Thickness: 3.5mm(B);Flange Plate:260*12mm(W*T)
Height: 7m(A); Diameter: 100/160mm(d/D); Thickness: 4mm(B);Flange Plate:280*14mm(W*T)
Height: 8m(A); Diameter: 100/170mm(d/D); Thickness: 4mm(B);Flange Plate:300*14mm(W*T)
Height: 9m(A); Diameter: 100/180mm(d/D); Thickness: 4.5mm(B);Flange Plate:350*16mm(W*T)
Height:10m(A); Diameter: 110/200mm(d/D); Thickness: 5mm(B);Flange Plate:400*18mm(W*T)
7
Anchor Bolt
4-M16; 4-M18; 4-M20
8
Cables


18m/21m/24.6m/28.5m /32.4m/36m/
9
Wind Turbine
100w wind turbine for 20w/30w/40w led lamp.
Rated Voltage:12/24V
Packing Size:470*410*330mm
Security Wind Speed:35m/s
Weight:14Kg
300w wind turbine for 50w/60w/80w/100w led lamp.
Rated Voltage:12/24V
Security Wind Speed:35m/s
G.W:18Kg
Product Details

PRODUCT DISPLAY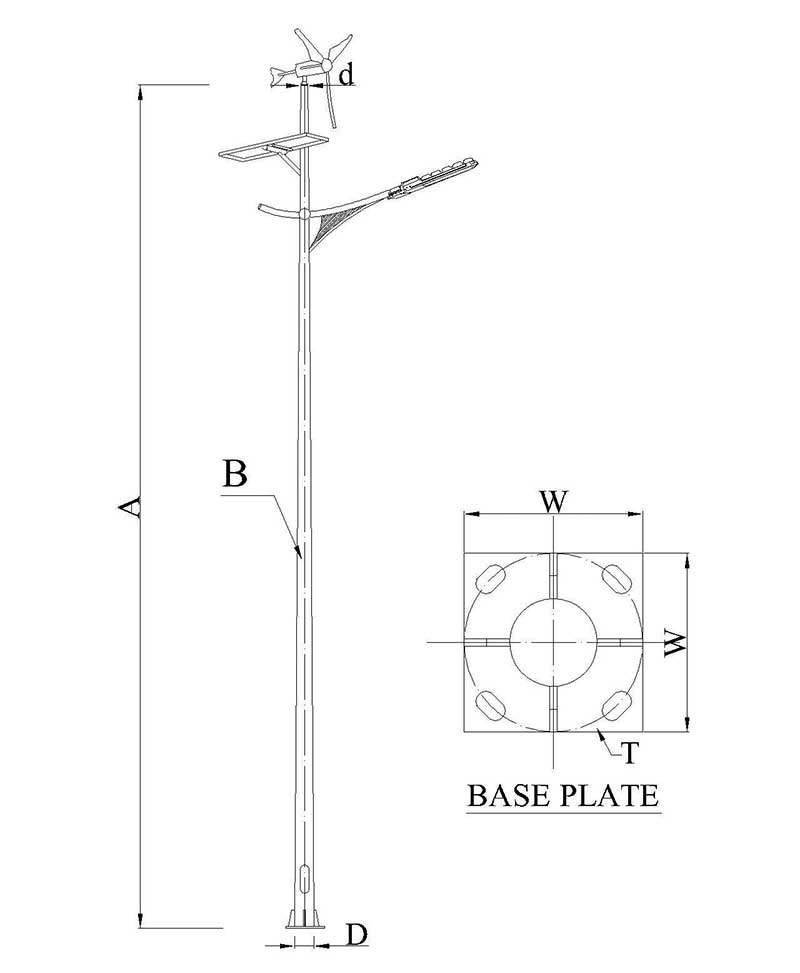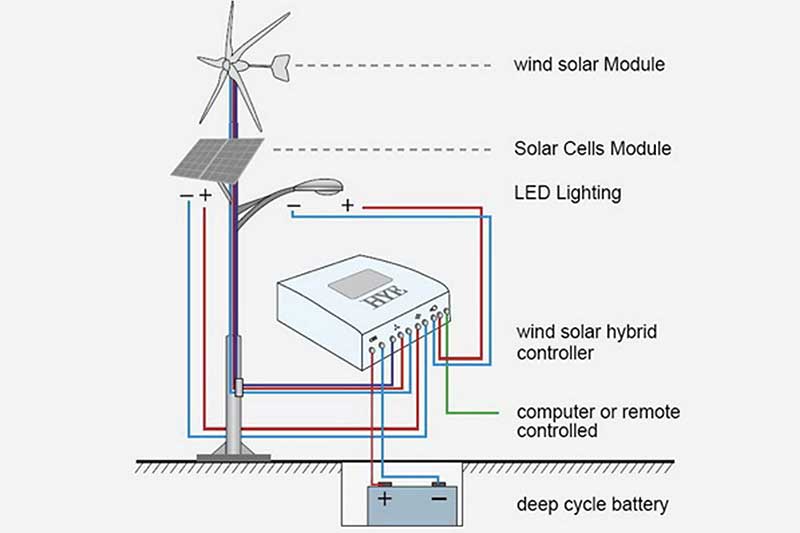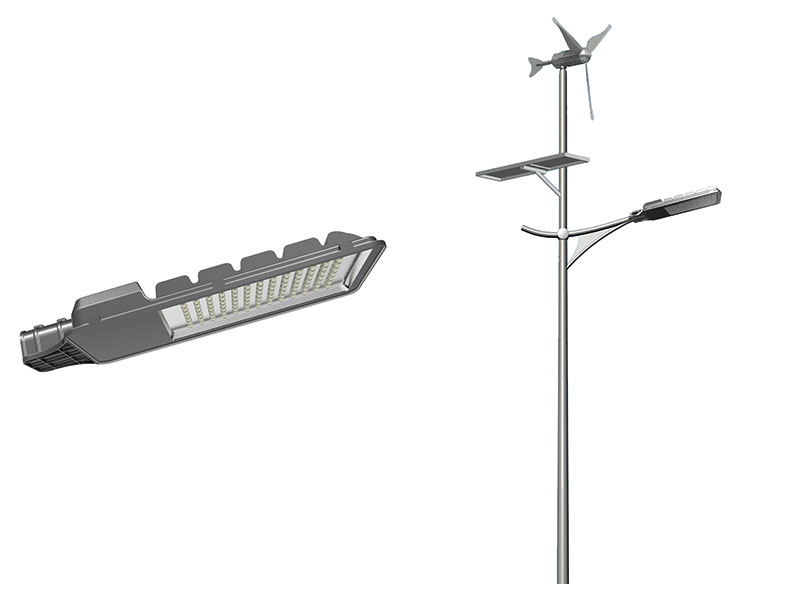 APPLICATION
Install the product in place with good sunshine and wind condition to display the function of the product