A60 filament bulb has the same appearance as common A60 globe bulb, but it not only can save more energy than A60 tungsten filament but also has stronger decorative than common LED A60 light bulb. Such as this vintage LED filament bulb uses no more than 7W, the tungsten filaments with comparable light output would consume 65~70 watts. The shell of filament bulb is made of clear glass that allow the filaments to be seen directly. This vintage LED filament bulb will evoke memories of the old incandescent bulbs, a practical advantage of the filaments bulb is that the LEDs can be elevated for omnidirectional light, the same as an incandescent bulb.A60 LED filaments bulb is perfect for ceiling lights, restaurant pendant lights, ornamental lights, decorative light strands, or for any decorative application that accepts A60 globe bulb types with E26/E27 bases. This filament bulb will create a mixtures of vintage and modern styles at your home .Just because of these features, the filament bulb is gaining popular in the market.
Filament Bulb Features:
1. Energy-saving, it can save 80% energy than traditional tungsten filament lamp.
2. As it uses LED lighting source, it has a longer service life.
3. Environment-friendly, no mercury and other harmful metal.
4. The appearance of this filament is more retro, it has stronger decorative.
5. It can fit in any A60 globe bulb type with E26/E27.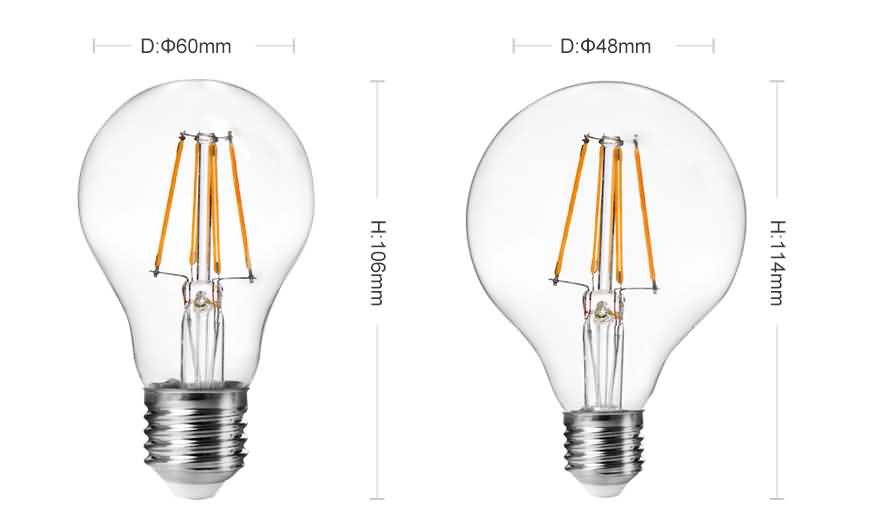 detailed parameters


Usage: table lamp,crystal chandelier, wall lamp,down light and soon.


Usage: table lamp,crystal chandelier, wall lamp,down light and soon.